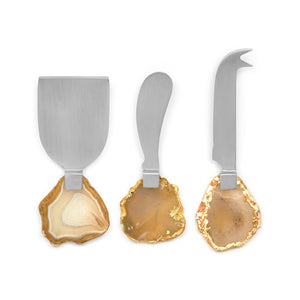 Agate Cheese Set of 3
Regular price $55.00 Sale
Add a hint of luxe to your interior with this Agate set of three cheese knives by Tizo Designs. Each topped with a natural slice of agate on the handle, these knives have been crafted from stainless steel. A chic addition to any table, each piece is unique due to the natural materials used and shapes and colors can vary.
Elegant Cheese Knife Set – Serving cheese to your guests is an art form, and it requires the proper tools; This set features three types of knives for hard or soft cheeses and butter; Made of durable stainless steel with a unique, boutique quality design

Luxury & Quality – A truly sophisticated and distinctive design, impeccably crafted to the highest standards; A set of beautiful cheese knives and spreader with white marble handles and stainless steel hardware; Take the style of your space to a whole new level

Material: natural agate, stainless steel

Set of 3 includes wide spade, spreader and pronged knife.